BURNING FAT WHILE PRESERVING MUSCLE IS AN ART, NOT A SKILL.
Pro Creator Hany Rambod has demonstrated this concept countless times by shaping some of the most insane physiques the world has ever seen.
It's his keen understanding of physique remodeling, of balancing increased metabolic rate and appetite control, that lead to the formulation of Hany's most innovative metabolic accelerator capsule – introducing Lipocide Xtreme.
In the beginning, it was Hany's ground breaking non-stim formulations that put Evogen Nutrition on the map. More recently, due to the demand from our customer base, Hany designed Lipocide Xtreme for advanced users who are looking for a strong stimulant effect.
With Lipocide Xtreme you can expect to feel an intense focus and clean, consistent energy that can push your mental drive throughout the day.
THE WORLD'S MOST INNOVATIVE METABOLIC ACCELERATOR †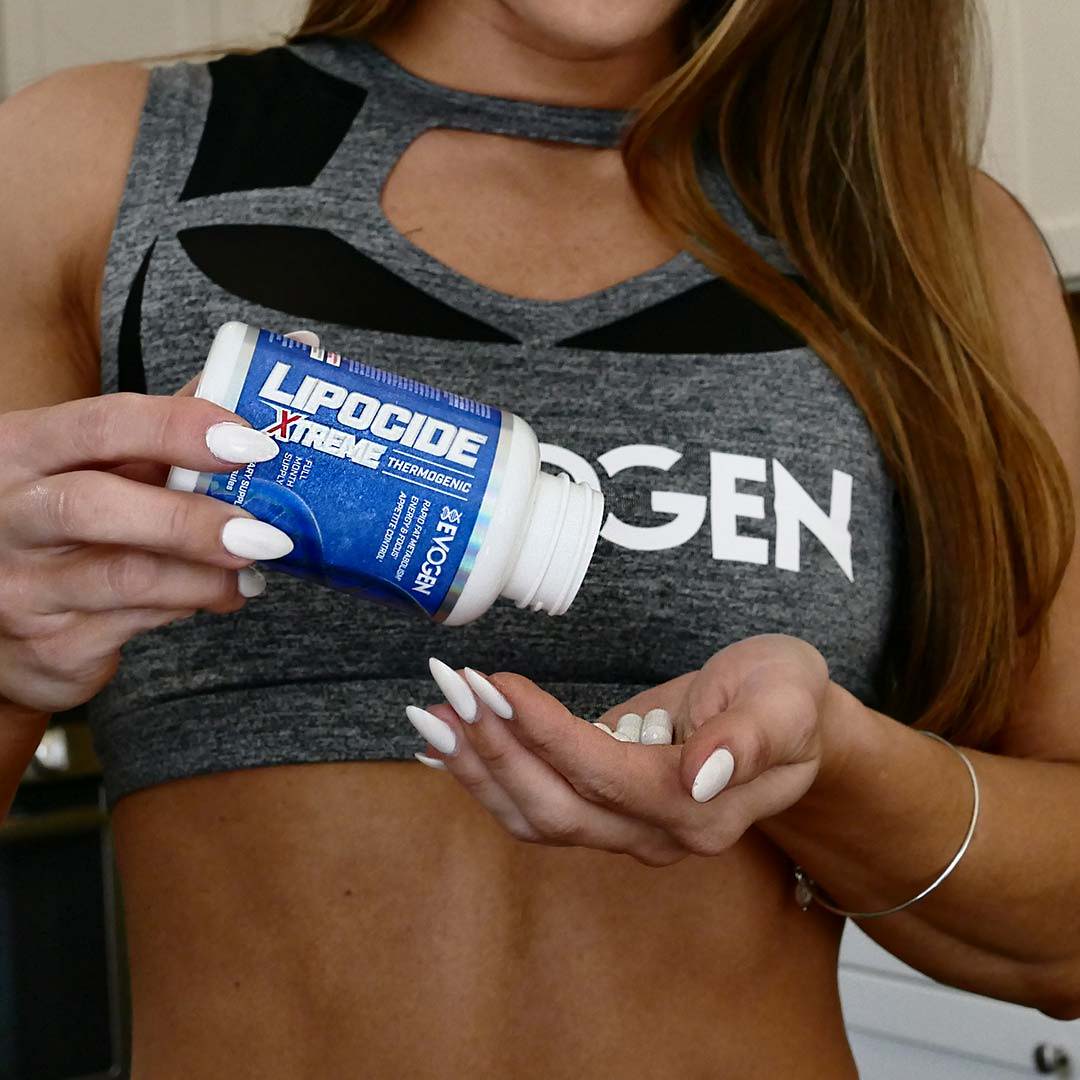 MAXIMUM
RAPID FAT METABOLISM †*
ENERGY & FOCUS †*
APPETITE CONTROL †
Always evolving and staying ahead of the game, 20X Olympia winning coach Hany Rambod created Lipocide Xtreme as a solution for athletes working to build a shredded physique.
Contrary to popular weight loss beliefs, the goal should be to curb someone's appetite, as opposed to eliminating it, so they can eat smaller quantities and have fewer cravings.
If you kill a person's appetite completely, they'll have difficulty eating at all, and will inevitably lose muscle mass from the lack of calories and protein.
In response to this dilemma, Hany designed Lipocide Xtreme to support appetite control, to help the consumer have fewer cravings, and to burn more calories while doing cardio. †*
By curbing appetite, accelerating your metabolism, and pushing metal drive for hours, this reformulated fat burner is powerful weight loss solution!
HERE'S A CLOSER LOOK AT THE PRO CREATOR'S LIPOCIDE XTREME:
Methyl-liberine (as Dynamine™) - This amazing new compound is being brought to you first by Evogen Nutrition after months of testing. Dynamine is a clinically studied methylurate which is structurally similar to methylxanthines such as caffeine. However, it's proposed it causes less habituation because it doesn't bind tightly to adenosine receptors like caffeine does. In turn, it has a great nuerositmulation effect that can provide great focus and lost lasting energy. †*
Citrus Aurantium Extract - Evogen Nutrition uses the patented and clinically studied variant of citrus aurantium extract called Advantra-Z. This highly potent extract has stimulant properties which interact with the adrenergic receptor system through a high p-synephrine content. It has a wealth of supporting research which has demonstrated it has an exceptional effect on the body. †*
Dimethylaminoethanol (DMAE) - DMAE is involved in a series of reactions that form acetylcholine, a chemical that is found in the brain and other areas of the body. Acetylcholine is a "neurotransmitter" that helps nerve cells communicate and has been shown to have a positive effect on focus and attention span.
Mucunua Pruriens Extract - This potent extract contains a special naturally occurring neurotransmitter known to support elevated mood levels. Lipocide Xtreme contains a proprietary extract of this highly sought-after plant which is cultivated from Southwest Asia. †*
Caffeine Anhydrous - Caffeine has been shown to enhance energy and thermogenesis. It is the backbone of many formulations and Evogen Nutrition is not afraid to show you just how much is in the product. †*
Evodia Rutaecarpa Extract - This innovative extract contains a compound called evodiamine. It elicits a thermogenic effect via the vanilloid receptor system. In animal models, it was shown to have about the same effect as capsaicin meaning it is a potent thermogenic capable of elevated metabolic rate in animal models. †*
Griffonia Simplifolia Extract (Seed) - This important extract contains ingredients that serve as a precursor to serotonin, melatonin, and tryptophan. The importance of this in Lipocide Xtreme is that it helps control the potential for overstimulation while also supporting a balanced sensory curve. This in turn allows for a nice smooth feel without a strong stimulant crash. †*

Capsicum Annuum Extract - If you've ever had a red pepper then you know it produces heat, but the concentrated extract stimulates catecholamines such as epinephrine and norepinephrine. These powerful molecules help stimulate the central nervous system and lipolytic processes. †*
Yohimbe Bark Extract - This West African herb has long been used as an aphrodisiac but also has use in stimulant thermogenic products. Yohimbe may act as an adrenergic receptor agonist, inducing fight or flight responses in the body such as increased heart rate and lipolysis. This powerful extract packs a punch and compliments the Lipocide Xtreme formula quite well.†*
Piper Nigrum Extract (as BioPerine®) - This advanced bioavailability enhancer is standardized for a component called piperine. This innovative compound enhances bioavailability of many ingredients found in supplements by interacting with the intestinal brush border and stimulating digestive enzymes. In many animal models piperine has demonstrated its effectiveness on numerous ingredients. †*
There you have it. A recipe for shredded success. Hany has finally yielded to the demands of the dedicated customers of Evogen Nutrition and released his advanced Pro Creator quality tool to kick start your engine and get you shredded. It's up to you to take the next step towards metabolic acceleration on an Evogen Elite level.†*†
As a dietary supplement, begin by taking one serving (1 capsule) in the morning on an empty stomach 20-30 minutes before your first meal or protein shake. Wait approximately 7-8 hours, and if suitable, consume a second serving (1 capsule) and assess your tolerancae again. For best results, use with a combined diet and training program. DO NOT USE PRODUCT FOR LONGER THAN 4 WEEKS FOLLOWED BY A SUBSEQUENT 4 WEEK BREAK. DO NOT CONSUME MORE THAN 2 CAPSULES IN ANY 24 HOUR PERIOD. READ THE ENTIRE LABEL BEFORE USE AND FOLLOW THE DIRECTIONS PROVIDED.
Share
View full details